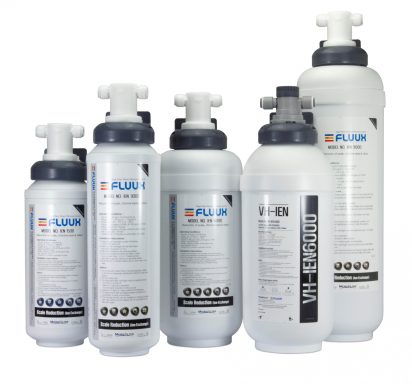 IEN3000 (SP-510) Water Filter Cartridge
The Best Filter for hot water vending machines to reach the market in over 20 years! 
• High Capacity Filters 25,000L or 12,000L
• For use in Hard water areas up to 600PPM
• No more Hard Scale build up!
• 100% Filtration - No bypass system required
• Does not remove important minerals from water, unlike most RO or Ion Exchange units
• Does not use Polyphosphate, Sodium and pH reducing Hydrogen Ions.
• WRAS Approved
• ANSI / NSF Approved
• German manufactured media.
The "SPECIAL" Filter provides high volume, high capacity, no drain requirements, no waste water and the only filter with filtration of contaminants and scale prevention in one system which supports all beverage machines, steam ovens, ice equipment, coffee brewers including all water dispensers for both cold and hot applications.

With the "SPECIAL" Filter you will experience minimum pressure drop over one year, allowing for 12,000 liters with 10" Filters (Model: SP-510) and 25,000 liters with 20" Filters (Model: SP-520) respectively of best treated water in the industry without any replacement regeneration.
The filter features a unique, Quick Change System with in-out head and a high quality wall bracket. Activated Carbon Block cartridge with very high surface area providing dirt removal, contaminant removed with SP3 media which provides one year of outstanding Hard Scale Prevention. This in turn will help reduce maintenance, service and regeneration costs as well as down time caused by scale build up and clogging of distribution lines, evaporator plates, pumps, solenoid valves, nozzles and other parts of equipment.
SPEEDY WATER FILTER DELIVERY
Our
H2O SP-510 Hot Water Filters 
is available in stock and ready for delivery Next Day (If ordered before mid-day). If you select our installation service, our install team are always on hand to assist with the plumbing and electrics to make your installation complete and compliant with
WHA
. 
30 Day Money Back Guarantee 
 As one of the UK's Leading Suppliers of coffee machines and accessories,
www.Monkeyvend.co.uk
have built a reputation for quality products backed by an impressive 30-day money back guarantee. Our guarantee means you can buy your Hot Beverage & Vending Solutions, Filters, and other related products from us, with the confidence of knowing that our products will give you many years of assured use, giving you peace of mind and a sense of security.
Unbeatable Customer Service
Of course, there's little point having quality products if it isn't backed up by quality service, so at Monkey Vend we make it our mission that each and every one of our customers receives such a high quality of personal service from us when buying their Vending Solutions that they become a customer for life. In fact, if your experiencing a problem, we settle nothing less than guaranteeing to fix your coffee machine or vending system within 24 hours of it being reported to us.
Best Price Promise
Monkey Vend will beat any like for like quote on your Vending Solutions, meaning that if you are currently looking for a competitive price for a coffee machine, vending system, or accessory your search is over. When you buy from
www.Monkeyvend.co.uk
you can be confident that our price is the best it can possibly be.
---
We Also Recommend
---